Infolinks pay rate is better than programs like Chitika and others, which can be a great alternative to AdSense, if used wisely.
In this Review information about Infolinks.com, where you can see what is Infolinks about, and how to use Infolinks, which you can decide if it is worth going after.
Full Review & Tutorial of Infolinks.com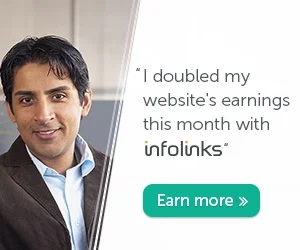 Overview
Infolinks.com is a global advertising platform for publishers and advertisers. It has named its advertising platform In³ which stands for Infolinks, Intent, and Intelligence. In³ technology powers the third-largest publisher marketplace in the world, supporting more than 100,000+ websites in 128 countries.
Infolinks.com claims to offer innovative ad solutions to publishers while keeping the look and feel of their websites intact. The company mostly focuses on contextually relevant ads.
Placements and layouts offered by Infolinks are known to avoid banner blindness—a user behavior that drastically takes down ad performance. Its in-house algorithm is designed to match advertisers with the right audience while maintaining optimal profit for publishers.
Infolinks.com services are open to all kinds of publishers irrespective of their website business size. The company takes pride in its effortless integration process with no setup fees. Its policies are quite straightforward and don't allow illegal, offensive, and adult content.
Infolinks is completely AdSense compatible. For better monetization, publishers can even partner up with other ad networks—if that doesn't interfere with their policies.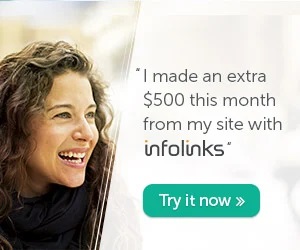 What Are the Benefits of Using Infolinks.com Ads and the advantages over others.?
If you're wondering about why should you use Infolinks over other alternatives such as Google AdSense or Chitika or media.net, here are some of the advantages of Infolinks.com over others.
Infolinks.com is the third largest publisher marketplace in the world.
Infolinks uses contextual ads and smart ad unit targeting system to show highly relevant ads
Infolinks.com has access to thousands of advertisers in almost every industry
Offers a ton of ad formats to monetize your site with Infolinks ads
Infolinks offers responsive mobile ads to maximize ad revenue from mobile traffic.
Pros
AdSense compatibility: As mentioned, Infolinks works fine for publishers using AdSense. It doesn't interfere with the ad units set by AdSense, working as a perfect combination to generate maximum revenue.
Contextual ads: Contextual targeting uses the website niche to find advertisers. This targeting method doesn't require the user's cookie data to show them relevant ads. This ensures the security of users' data coming in via publisher's website saving publishers from the trouble of working on solutions that protect user privacy.
Quick approval: Infolinks has a quick approval span. It takes not more than 48 hours to assess whether the publisher's website meets the minimum requirements. Given the fact that it has no requirements for traffic, it creates a perfect opportunity for small publishers to get started with their services without having to wait for long.
Cons
Some ad formats can be intrusive: Better Ads Standards suggest sticky ads are intrusive when used on mobile devices. Publishers using InFold format—a sticky format—can cause damage to publisher reputation in the marketplace. For that matter, publishers need to be careful about the ad units they are placing on their desktop and mobile sites.
It is a newbie-friendly ad platform but the ROI isn't worth it specially when you consider comparing to other blog monetization options like affiliate marketing, Ezoic, Ad Thrive or media.net.
CPM is very low when compared to western countries such as US, UK, Canada etc
Usually on Infolinks ads, CTR (click through rate) is higher and CPC (Cost per click) is lower
Although Infolinks is a non-obtrusive and effective contextual ads platform that has easy approval process, but It pays almost nothing compared to other blog monetization options.
Infolinks is no longer one of the best AdSense alternatives for small websites. Specially when we have better options like Ad Thrive, Ezoic and even complete other monetization models like Amazon affiliates, offering services or selling sponsored posts.
Once you have decent traffic try to make money from your blog using other effective methods like affiliate marketing and selling your own products.
So what are your thoughts and reviews of Infolinks?
Tested Worth the time

…? NOT ONLY For New Blog

Here is the best 3 so far Google AdSense / Wait till you have 1000 visitors daily than you will see some profits.

and Mediavine.com / You need 50,000 monthly sessions or 250 million Visits

Here is Another Way to Earn from "ClickBank MarketPlace Ads"